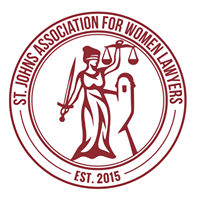 Become a St. JAWL Member! St. JAWL membership is open to all members in good standing of The Florida Bar, both male and female.
Become a Member
The membership year spans from July 1 – June 30 and is not prorated.
Membership in St. JAWL is ancillary to membership in the statewide Florida Association for Women Lawyers.
To join us, visit www.fawl.org/join and select St. Johns as your primary chapter. Discounted rates are available to our colleagues practicing in the governmental and non-profit sectors, as well as students.
Not an attorney? Become a St. JAWL Affiliate!
The pursuit for gender equality is a community-wide effort! We welcome our non-attorney business partners and community members to join our cause. If you are interested in applying to become an affiliate of St. JAWL, please contact us today by emailing St.JWomenLawyers@gmail.com.